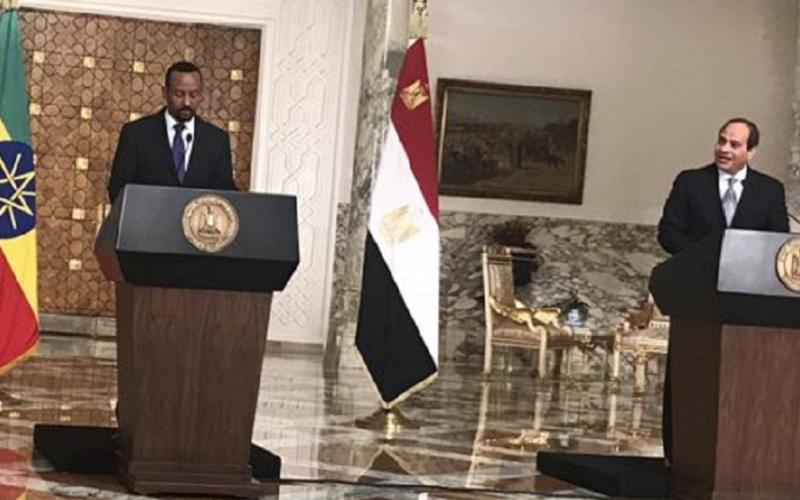 At the end of talks, the two leaders held a news conference, where Sisi asked Ahmed to swear to God before the Egyptian people that he will not hurt Egypt's share of the Nile.
"I swear to God, we will never harm you," Ahmed repeated the words in Arabic after Sisi, who thanked him for releasing jailed Ethiopians.
The two leaders signalled their commitment to mutually benefiting from the Nile's waters and cooperate in other projects.
"We have come a long way in building confidence and strengthening bilateral cooperation," Sisi said.
Ahmed, speaking in his native Amharic language, said Ethiopia was committed to ensuring Egypt's share of Nile water.
"We will take care of the Nile and we will preserve your share and we will work to increase this quota and President Sisi and I will work on this," Ahmed said, addressing Egyptians.
Safeguarding Egypt's share of the Nile, its main source of drinking water and water for industry and farming, is at the top of Sisi's agenda as he begins his second term in office.
Abiy flies home with prisoners
Meanwhile, the prime minister flew back home with 32 Ethiopians that had been freed from Egyptian prisons at his request.
Abiy's triumphant entourage back to Addis Ababa included prominent figures in the country's political space.
HE PM Dr Abiy extended his love to: 1) Ex-OLF Comander, Col. ABEBE GERESU, defected with 100 plus soldiers from #Ethiopia & 2) Ex-OLF Political figure who was founder & OPDO Executive Member YONATAN DUBISA. Both abandoning their base in #Eritrea landed in Addis with HE The PM.